Dyer Tire Program In Lake Wales, FL
You know Dyer Chevy in Lake Wales as the team that goes the extra mile. We've gone back to the drawing board to evaluate all the aftersales products that our customers spend money on, and we figured out a way to help them (and you) save big time with our new tire program. Read on for more details.
Need New Tires in Lake Wales? Dyer! Marks the Spot
Ok, what's this tire program all about, anyway? It's simple. Keep up with your scheduled maintenance. Keep up with your tire services. Get kickbacks on tire replacement. Save on some show-car detail services, and get an extra $500 back when you decide to trade in your Dyer-maintained vehicle.
Yup.
You've got services due for nearly all Chevy vehicles at 7500 miles, 15,000 miles, and 45,000 miles (with corresponding intervals between those checkpoints). We'll make sure things are taken care of the right way using only genuine Chevy parts at our Chevy Service Center.
As part of our tire program, you'll get four vouchers (worth up to $600 in total) when your tires get down to 3/32. So if you add all that up, that's an easy 1100 dollars of potential savings, without even calculating the savings you get on service and detailing.
See! We told you that getting new tires from us was awesome.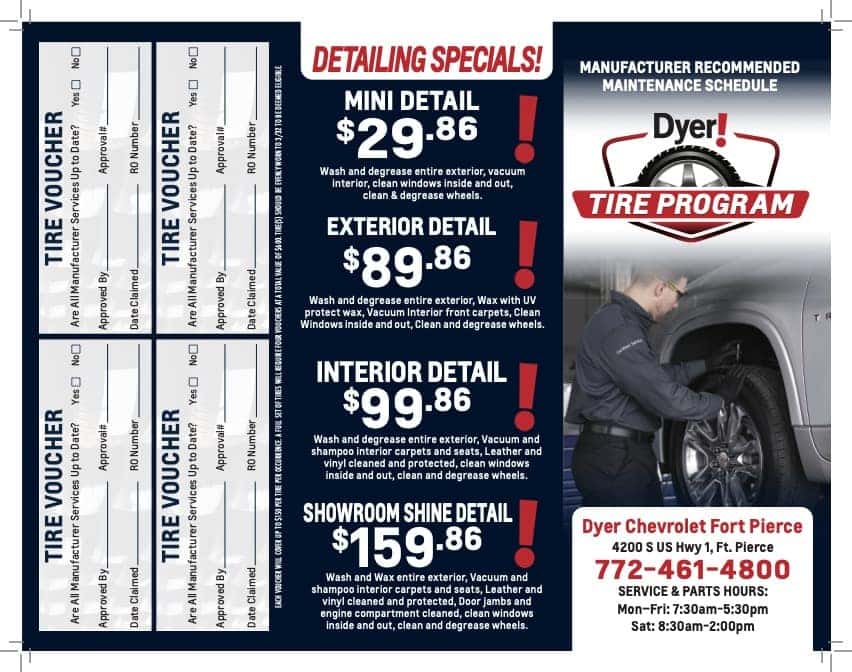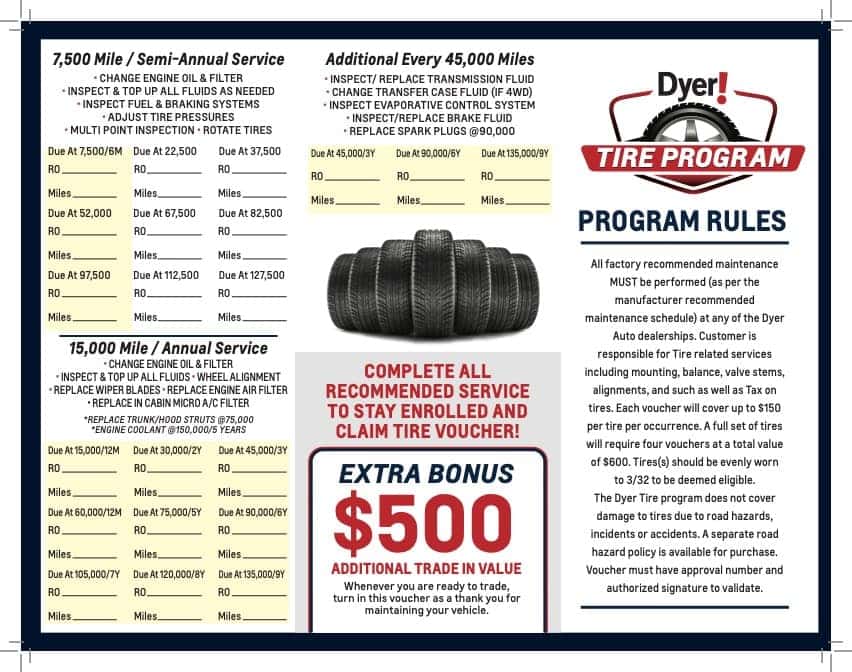 The Dyer Tire Program is our way of helping drivers take care of their vehicles and keep up with their regular tire maintenance. To help you maintain the tires on your car, this special program is offered at every Dyer Chevy repair shop.
Tires on our vehicles are the only point of contact between our cars and the road and play a massive role in how our vehicles drive, handle, stop, and accelerate.
Since tires are so vital to our automotive safety, we want to help drivers stay on top of their tire maintenance and avoid the cost of purchasing new Chevrolet tires. That's why we created the Dyer Tire Program.
New Tires for Sale in Lake Wales
When you have factory auto maintenance and oil changes performed at a Dyer auto service center, you can earn a tire replacement voucher for up to $150.
By following the factory-recommended service intervals and having your car's maintenance performed at a Dyer dealership, you are eligible for replacement tires on your car, light-duty truck, and SUV as part of the Dyer Tire Program in Lake Wales, FL.
Instead of saving up to buy tires for sale in Lake Wales, get new tires for free at a Dyer dealership location. Stop by a location nearest you to speak with a sales or service representative and learn more about the program's rules.
Dyer Tire Program Rules
To participate in the Dyer Tire Program and earn a tire voucher, you must have all factory-recommended routine maintenance performed at one of our nearby Dyer service departments.
A program voucher will cover up to $600 or $150 per tire per occurrence, while the customer is responsible for tire-related services, including mounting, balance, alignments, tax, and replacement valve stems. The Dyer Tire Program voucher must have an approval number and authorized signature to validate its authenticity.
To be eligible for replacement, tires should be worn evenly to 3/32 of an inch. The program doesn't cover damage to tires due to incidents, accidents, or road hazards. If you would like a road hazard policy for your vehicle, a separate policy is available for purchase.
Another benefit of the Dyer Tire Program is a $500 trade-in voucher to use at our Chevy dealer in Lake Wales when you purchase your next vehicle. This is one more way we like to thank our customers for their loyal support.