Donate & Save At Dyer Chevy Lake Wales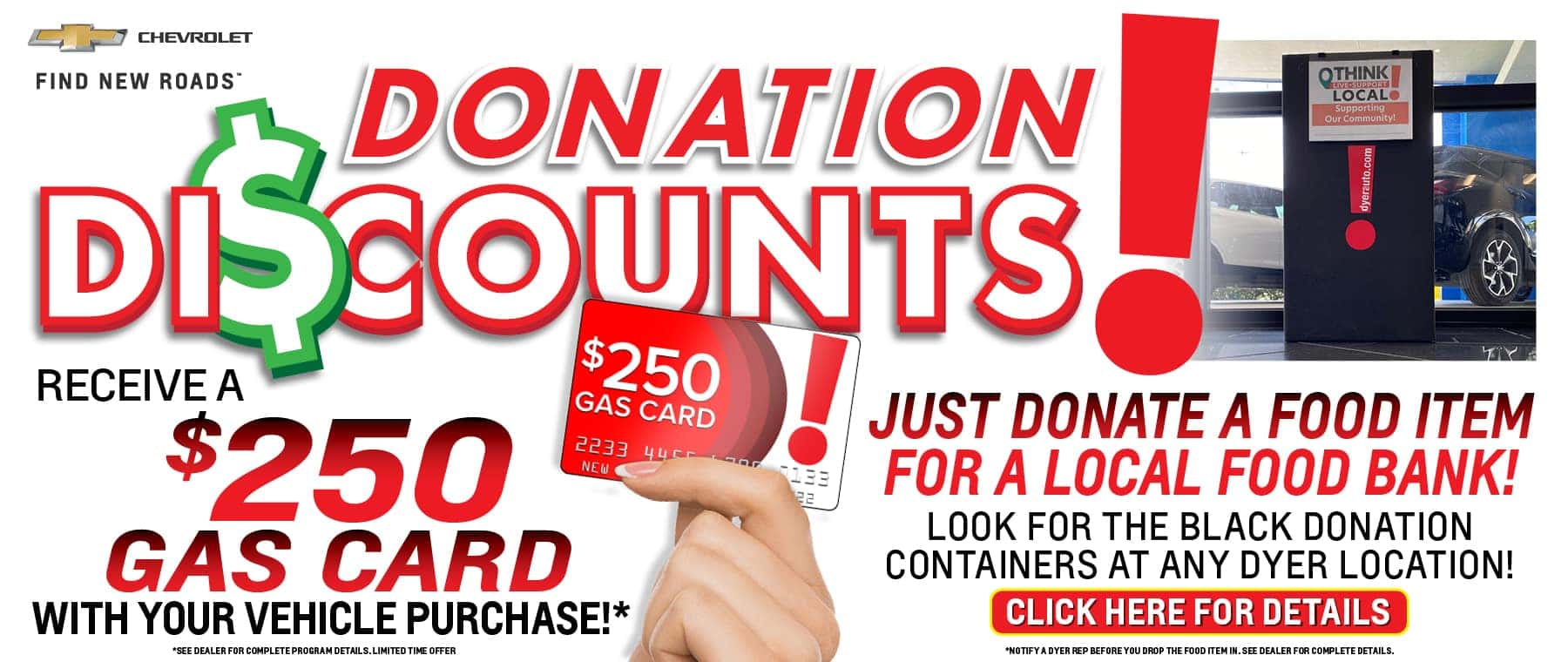 If you're looking for a great way to save on service or get a great deal on our new or used vehicles, then partnering up with Dyer Chevy Lake Wales is the way to go. We're looking to make 2022 the best year yet for our community, and we need your help. If you've ever wanted to give to a charity in a way that creates positive ripples in Lake Wales, then we've got an excellent proposal for you. Please read below to learn more about our Donate & Save program, and we'll look forward to giving back to you the next time you visit with us.
The Secret to Living Is Giving
Without everything that the world gives to us, we simply wouldn't be here. Giving is the source of life & Dyer Chevy Lake Wales is ready to help raise the standard of living for all of those less fortunate in our community. To create the greatest possible impact, we're creating an incentive for our customers to join us in this effort. When you donate to one of the following charities this year, we'll give right back to you with your choice of savings at a service visit or $100 off your next vehicle purchase (new or used).
Central Florida Health Care – This is a great way to have maximum impact. This organization provides funding for the George Jenkins End Hunger Initiative and The United Way of Central Florida. When we focus our efforts on ending food insecurity, we solve one of the most primal needs. When people become full, they become full of hope.
Backpacks – In a unique partnership with LaPorte Farms, we'll ensure that school-bound youngsters get the supplies they need to make the most of their time at school and home. By providing these essentials, we help our future community leaders discover their community & the world.
Help Our Pets – For those of you who have a soft spot for our furry friends, we encourage you to donate to any of the fantastic charities in our area. From no-kill shelters, adoption, health services, and food supplies, there are plenty of ways to take care of the creatures that oftentimes take such good care of us.
Toys for Tots With over 604M toys delivered to date, you can help the United States Marine Corps on their most crucial mission yet: caring for our less fortunate children. By providing a new, unopened toy in our donation containers, you allow the U.S. Marines to collect them for distribution for underprivileged or hospitalized children at Christmas.
If you'd like to donate to one of these charities or even volunteer to help us, please speak with a team member. Thank you for helping Dyer make a difference.