Chevy Tahoe Interior Features, Colors & Dimensions

All aboard the Chevy Tahoe interior. This expansive cabin space welcomes everyone in for a good time. Set up your cabin the way you want across six trim levels and enjoy a first-class experience every time you leave the house.
Find Your Favorite Chevy Tahoe Interior Features
Learn more about all of the modern Chevy Tahoe interior features inside our showroom. This heavyweight wraps its arms around your passengers and makes it easy for the driver to control the cabin settings. Keep your focus on the road and traffic conditions while your phone effortlessly connects to this SUV's infotainment system. You can easily adjust your navigation directions or turn up the air in the Chevy Tahoe interior without distraction.
Chevy Tahoe interior lights illuminate your cabin, and leather seating surfaces make everyone feel at home. Second and third-row passengers will feel like collapsing into the couch during a long ride. Whether you choose non-perforated leather, perforated leather, or premium cloth, you'll receive a luxurious cabin that's easy to clean. Set the mood you desire and enjoy every trip.
Here are some of the available Chevy Tahoe interior features that our vehicle experts will spotlight when you visit our lot.
Power-Sliding Center Console and Storage Compartment
Leather-Wrapped Steering Wheel
10.2-Inch Diagonal HD Touch-Screen Display
Wireless Charging Ability
Hands-Free Power Liftgate
Multi-Speaker Audio System
Automatically Adjustable Rear View Mirror
Chevrolet Infotainment 3 System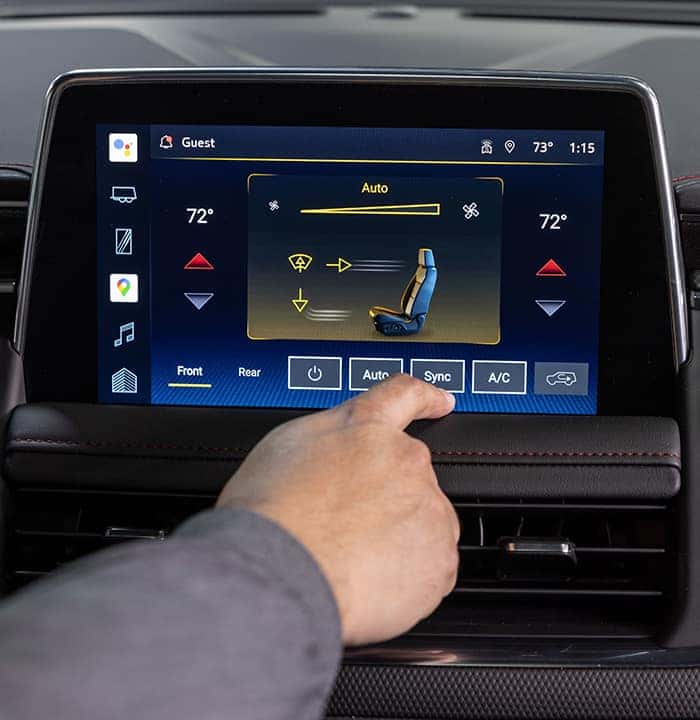 Compare Our Chevy Tahoe Interior Colors
The Chevy Tahoe interior colors allow you to put a stylish stamp on your cabin. Compare these interior color options, and the Chevy Tahoe trims with our experienced showroom staff. Here's how our team feels about each attractive interior color choice in our new Chevy Tahoe.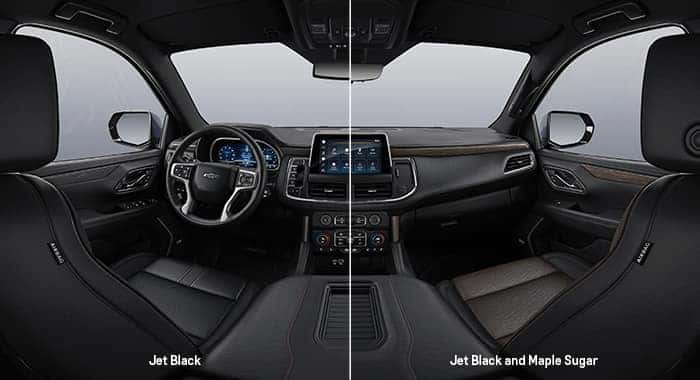 Jet Black
Jet Black gives your seating setup a superhero-type feel. A sleek black setup looks elegant with any exterior color and hides more messes than lighter choices. Select Jet Black, and it'll feel like your cabin is dressed up for a special occasion every time you take the wheel. Multiple seating materials are available in Jet Black.
Jet Black and Maple Sugar
This sweet brown color is an excellent lighter option. The wooden accents and Maple Sugar color pair well. Whether you're studying the fine details up close or interested in a commanding interior from front to back, this combination delivers. See how this set of colors compares to our other two-tone options and the monotone Jet Black on our lot.
Jet Black and Mocha
Jet Black and Mocha provide the same boost of energy inside your cabin as a hot cup of joe. Start every morning in a cabin that's warming and inviting. This color combination looks great with the Black digital entertainment cluster and the wooden accents around the frame. Choose perforated leather seating surfaces in your two front rows to access this exterior color.
Gideon and Very Dark Atmosphere
Select this color and enjoy a premium cloth seating trim that's comfortable and durable. We like how this lighter color complements the accessories and storage spaces next to the seats. This color combination is very versatile and effortlessly pairs well with any exterior color. Bold choices make Gideon and Very Dark Atmosphere look more defined, and refined exterior colors flow effortlessly into the Chevy Tahoe interior design.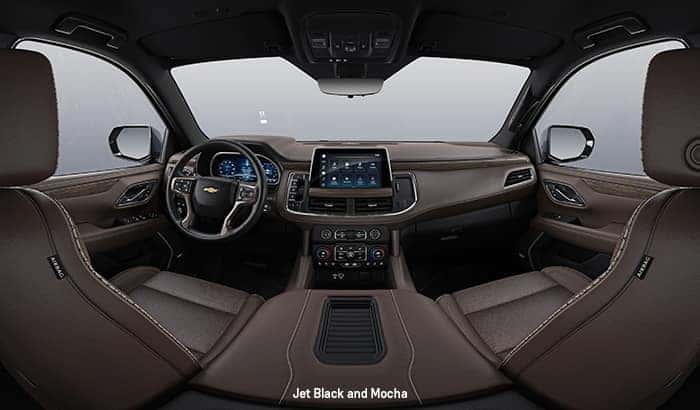 Do Our Chevy Tahoe Interior Dimensions Fit You?
We've got the Chevy Tahoe interior dimensions you need to know before you buy.
Passenger Volume Between Three Rows: 168.3 cubic feet
First-Row Legroom: 44.5 inches
Second-Row Legroom: 42 inches
Third-Row Legroom: 34.9 inches
Cargo Volume Behind the First Row: 122.9 cubic feet
Seating Capacity: Up to Nine Passengers
Use the Expansive Chevy Tahoe Interior Trunk Space
Want to expand your Chevy Tahoe interior trunk space? Fold down the rear row of seating and enjoy a flat cargo area. If you still need your second row, you'll get 72.6 cubic feet to work with the middle seats up.
See how the Chevy Tahoe interior space fits you at our official dealership. Our team will show you how to fold down and prop up seats in the second and third rows. If you're interested in our Chevrolet specials, we'll introduce you to whichever design catches your eye.
Choose Your Chevy Tahoe Interior
We're excited about introducing you to the different Chevy Tahoe interior setups we have available. Learn more about the trim levels for this model and take the next step towards a new SUV with our team.
We'll guide you through ideal car deals in our new Chevy inventory and answer any questions you have. Our experienced staff members are the backbone of our customer-first dealership experience.