2022 Chevy Silverado 1500 ZR2: Release Date & Specs

The 2022 Chevy Silverado ZR2 release date is coming, and with it, off-road thrills like never before await your command. There's a ton of stuff to get excited about, from new aggressive looks to additions and revisions that back them up with serious capabilities. New tech, a new interior design, and a whole lot of goodies to discover, the first-ever Silverado ZR2 is bound to impress.
We're the Chevy dealer in Lake Wales to find one at when the time comes, and we can't wait to help you experience this all-terrain beast in person.
2022 Chevy Silverado ZR2 at a Glance
---
Time to get down and dirty; the driving force behind this beast is a desire to dominate off-road trails. If that's a desire you hold dear, too, then the 2022 Chevy Silverado ZR2 release date will be an event well worth the anticipation. For longtime fans of the Chevy Silverado, that's especially true, as the Silverado ZR2 won't be arriving alone. With it, the next evolution of the Silverado 1500 is hitting the road. This latest refresh is a stunning showcase of what a truck can be, packed with new tech, new capabilities, new power, and new designs all around.
How do you lead the pack and proudly show the world what's possible? With an epic off-road optimized edition, that's what you're looking at with the Silverado ZR2. From new standard features across the lineup to a maximum towing capacity of 8,900 lbs1 and impressive performance parts on the ZR2, there's a lot of new and improved greatness to discover. Let's get right into it.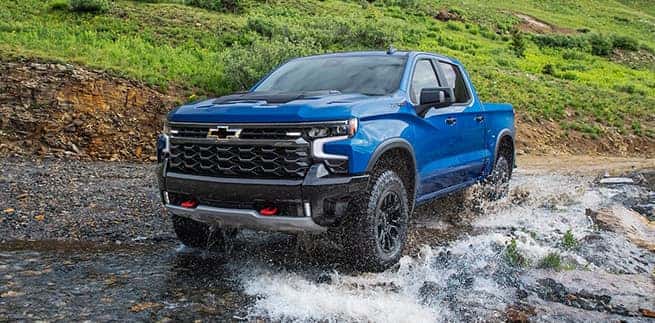 2022 Chevy Silverado ZR2 Off-Road Performance
---
First up to bat are the off-road goodies. We start at the engine; this is a familiar friend — the 6.2-liter V-8 available in a new Chevy Silverado for sale. Making 420 horsepower along with 460 lb-ft of torque, she's a double-duty powerhouse; haul with smooth, strong, and efficient capabilities, and then let it rip when the workday ends and the trails sprawl onward. Speaking of smooth and efficient, a 10-speed automatic comes standard with the Silverado ZR2, and so does a 4WD system.
A two-speed transfer case also comes standard, enhanced, and tougher for 2022, with Terrain Mode standard on the ZR2. Offering one-pedal driving and optimized capabilities for everything from rock crawling to mud crossings, Terrain Mode is only part of the story. Another part is front and rear differentials with e-lockers, letting you escape obstacles and tough terrain easily. Even more importantly, though, the ZR2 also comes standard with 18-inch wheels wrapped in 33-inch Goodyear Wrangler Territory® M/T tires.
Impressive, but as we know, off-road capabilities are nothing without suspension to handle the rough terrain. That's what you'll get with the ZR2. Specifically, new front coil springs and new rear leaf springs exclusively designed for the ZR2 come with it. But what's more, Multimatic shocks unleash the suspension's full potential and help to give 11.2 inches of ground clearance. Using cutting-edge spool-valve dampers, this setup is nearly identical to what you'd find in a Baja rally trophy truck. With unique skid plates coming standard, the ZR2 is ready to rip.
Sure, we could stop there, but even further tweaks make the 2022 Chevy Silverado ZR2 release date exciting. Among them is a new steel bumper. While impressively rugged and durable, the main benefit you'll find is that its raised position gives a dramatically improved approach angle — 31.8 degrees to be precise, beating several competing off-road optimized trucks. The same story takes place in the rear, improving the departure angle to 23.3 degrees with a raised bumper and hidden mufflers mounted as high as possible.
Carrying on, should you get stuck, two bright red recovery hooks on that steel bumper are there to help. Fender wheel opening moldings add a rugged touch, while a raised hood and aggressive all-black grille lets everyone in Lake Wales know you mean business. As a final performance touch, the Chevy "flowtie" badge boosts engine air flow and adds some pizzazz with accent lighting.
2022 Chevy Silverado ZR2 Interior Redesign
---
While the off-road thrills may have you excited for the 2022 Chevy Silverado ZR2 release date, the cockpit you'll partake in them from stands out just as proudly. This is the refreshed interior for the 2022 Silverado 1500, but it's got exclusive trim in the ZR2. First impressions are important, and the 2022 Silverado won't disappoint. Downright luxurious, this layout looks refined and thoroughly modern. Accented with the earth-toned ZR2 trim, it's just a great place to be — especially with scenic wilderness flying by your windows.
You've got some proper genuine wood trim available, as well as Ares leather seating and many attractive upholstery options.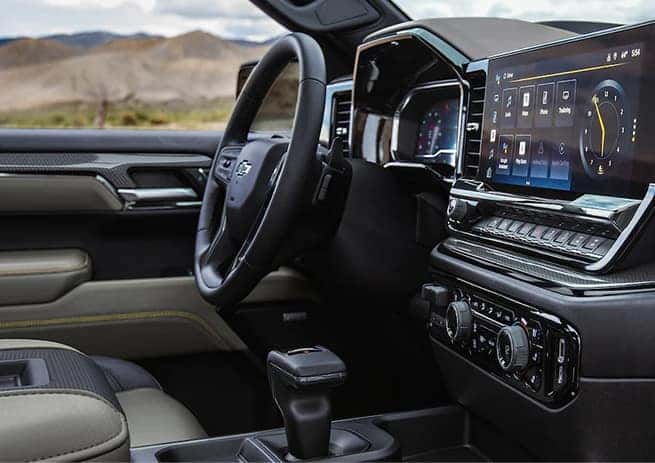 2022 Chevy Silverado ZR2 Features and Tech
---
Back to that first impression; you'll be greeted with LED lights playing a welcome animation as you approach your new Silverado ZR2. As you get in and sit in the leather-trimmed seats, you'll notice a new standard 13.4-inch touchscreen infotainment system and a crisp 12.3-inch digital driver information center behind the steering wheel. Customize the driver information center to your liking, and hit the road. Advanced connectivity is all there, with Apple CarPlay®, Android Auto™, and Google voice assistance for the infotainment system. Top that off with a Wi-Fi hotspot, too.
Where the going gets even more advanced is with driver assists. This comes thanks to the Chevy Safety Assist2 package — coming standard on every 2022 Silverado once the refresh and 2022 Chevy Silverado ZR2 release date arrive. You'll get six advanced features with it. They are:
Forward Collision Alert
Lane Keep Assist W/ Lane Departure Warning
Automatic Emergency Braking
Front Pedestrian Braking
Following Distance Indicator
Intellibeam® High Beam Assist
Hands-Free Driving in the Chevy Silverado With Super Cruise
---
Hands-free driving has arrived on a super talented truck with the Chevy Silverado Super Cruise.3 This new feature is like anything else in the Chevrolet truck lineup. Choose the High Country trim when you lease or buy a Chevy Silverado truck, and you'll be able to utilize the new driving assistance technology.
A 2022 Chevy Silverado Super Cruise is even functional when you're pulling a trailer. Activating the Adaptive Cruise Control is super easy to do, and you can set a specific speed limit and car length limit for your truck to obey. Advanced driver-assistance technology is no longer reserved for sporty sedans and SUVs. When you don't have a trailer, you can even use your Chevy Silverado Super Cruise to change lanes.
Super Cruise is currently able to take control of speed and steering on more than 200,000 miles of compatible roads and highways all across the United States and even in Canada. For a closer look at Chevy Super Cruise, visit our showroom and ask one of our vehicle experts about our selection of Chevy Silverado High Country models.
Our team will introduce you to a truck that truly stands out, maintaining all of the core characteristics of a heavy-hauling road warrior while also being built for the future. Inside the Chevy Silverado, Super Cruise gives you one of the most talented trucks on the road. Once you know what it's like to sit behind the wheel, you'll never look back at what anyone else is driving ever again.
Even though you'll be able to as your Chevy Silverado Super Cruise takes over the steering wheel, what's the point?
2022 Chevy Silverado ZR2 Price
---
What will the 2022 Chevy Silverado ZR2 Price be? We don't know specifically as of right now. While no official pricing is out, we can share some speculation. Car and Driver estimates that the ZR2 will arrive with a base price of around $55,000 — we believe this should be an accurate price point considering the top-of-the-line status of the ZR2.
2022 Chevy Silverado ZR2 Release Date
---
So now you know what the 2022 Chevy Silverado ZR2 release date will bring with it. When will it arrive? Just like the price, we don't have a precise, official figure right now. That said, both the ZR2 and the entire 2022 Silverado are expected to go on sale in the spring of 2022. We can't wait.
Find it at Dyer Chevy Lake Wales
---
Excited? We sure are. Once the time comes, give us a call, and we'll be thrilled to set up a test drive for you. While you wait, we have Chevy Silverado lease deals for work or personal trucks, and hey, you never know; you might just find similar deals with us on the 2022 Silverado ZR2 after it arrives.
Frequently Asked Questions:
---
How much will the ZR2 Silverado cost?
As of right now, no official word from Chevy has been released on the Silverado ZR2 pricing. While not official, we can speculate on where the price will fall. Since it leads the refreshed 2022 Silverado lineup as a top-end model, it should start with a price of around $55,000.
What is the Chevy Silverado ZR2?
The Chevy Silverado ZR2 is a new model built for off-road dominance. Heralding the refreshed 2022 Silverado lineup's arrival, the ZR2 will be a top-end model with top off-road features. This includes front and rear diffs with e-lockers, new steel bumpers for optimal approach and departure angles, advanced Multimatic spool-valve dampers, new suspension springs, beefy 33-inch Goodyear Wrangler Territory® M/T tires, and much more. As well, the Silverado ZR2 comes with exclusive interior trim and unique features like the Chevy "flowtie" emblem.
How much horsepower does the Chevy Silverado ZR2 have?
The 2022 Chevy Silverado ZR2 is powered by a 6.2-liter V-8, which makes 420 horsepower and 460 lb-ft of torque. With plenty of off-road additions, you'll be blasting through off-road trails like never before.
---
1When properly equipped.
2Safety or driver assistance features are not a substitute for driver responsibility to operate the vehicle in a safe manner. At all times the driver should remain attentive to traffic, surroundings and road conditions. Weather, visibility and road conditions may affect the feature performance. Read the vehicle Owner's Manual for further important feature limitations and information.
3Available on High Country. Always pay attention while driving and when using Super Cruise. Do not use a hand-held device. Visit chevrolet.com/electric/super-cruise for compatible roads and full details.